DevOps: Best Practices that matter
Evolutyz Corp technology leader and DevOps expert will interact with audience about DevOps: Best Practices that matter. Scaled Agile and DevOps are game changers for software testing. In the case of Agile, we are required to test faster and earlier, but DevOps demands a deep-rooted shift.
In this webinar, you will learn about the quality practices and metrics that separate Agile and DevOps leaders from the pack. In this session you will learn how testing and QA fit within an overall DevOps strategy. While software delivery accelerates through increased iterations, multiple builds, and shift left approaches, testing becomes paramount to provide feedback for faster resolution, and accelerate toward production release with confidence.
---
[su_row]
[su_column size="1/3″]
Details
Date: 6th September 2019
Time: 11 A.M. Central Standard Time
Agenda:
What is DevOps?
What is Scaled Agile?
Agile/DevOps Leaders vs the Pack
Q&A session with the speaker
[/su_column]
[su_column size="1/3″]
This webinar has ended, please fill in the details below to watch the video
[si-contact-form form='3′] [/su_column]
[su_column size="1/3″]
About Speaker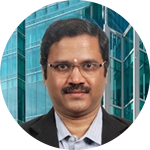 Pichumani Nagarajan: Is a QA/DevOps Practice head at Evolutyz Corp. He is passionate about DevOps, Microservices, Continuous Integration, Delivery and Deployment (CI/CD) and Test-Driven Development (TDD).
He often speaks at industry gatherings and conferences. He also writes for leading tech publications.[/su_column]
[/su_row]